#1 – Paddle
There's no shortage of wet adventures waiting! Just pick your paddle — kayak, canoe or stand-up paddleboard — and our experienced local outfitters will get you pointed downstream! Not so sure about your abilities? Ask about an easy-to-handle inflatable kayak.
#2 – Climb
Blue Ridge's newest attraction offers four amazing aerial courses to play on. As you move through the park, you'll be clipped in to a safety line at all times. On the "Crying the Blues" course, you'll tackle 11 obstacles and a 125-foot zipline while 30 feet in the air. A little balance is required as you move over hanging wooden blocks and surf the "Flying Kayak"! Family fun for ages 4 and up.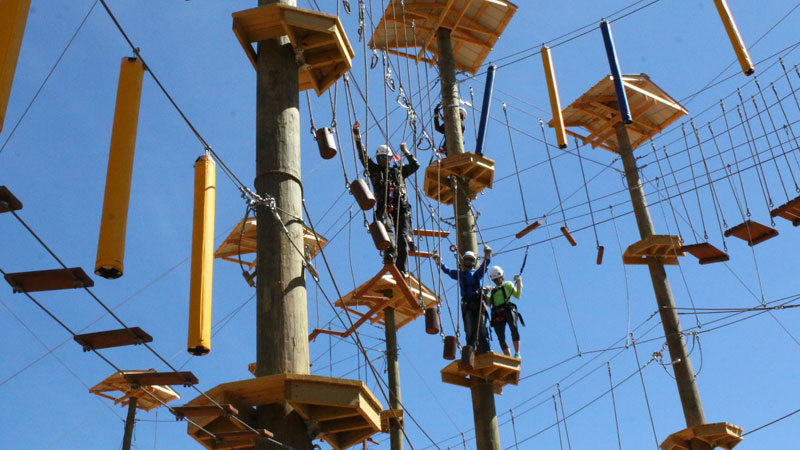 #3 – Golf
Experience mountain golf at its finest at the area's premier golf community. Nine holes are currently open for play on this Dan Proctor, Dave Axland and Bunker Hill-designed course, which is complemented by a driving range, and practice chipping and putting greens. Open six days a week (closed on Tuesdays), public tee times are available from 8 a.m.-5 p.m. Calloway rental clubs are also available.
#4 – Tube
There's only one home of the famous pink tube, and there's no better way to experience the Toccoa than along this scenic 6-mile stretch. Ray, Gina and the tube crew will set you up with everything you need — from super-tough tubes (with bottoms) to shuttle service, changing rooms and clean restrooms!
#5 – Fly
If you think our mountain and lake views are stun­ning at ground level, prepare to be blown away by the view at 500 feet! Up to three passengers can ride starting at just $45 per person, with a variety of other trips and tours available.
Blue Ridge Helicopter Tours (no longer in business)