#1 – Paddle
Pick your paddle — kayak, canoe or stand-up paddleboard — and our experienced local outfitters will get you pointed downstream! Not so sure about your abilities? Ask about an easy-to-handle inflatable kayak.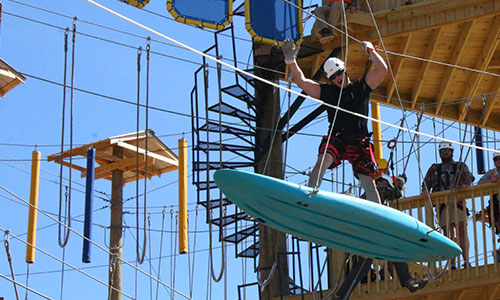 #2 – Climb
It's family fun for ages 7 and up at this high-flying park. Of course, you'll be clipped into a safety line at all times. On the "Crying the Blues" course, you'll tackle 11 obstacles and a 125-foot zipline while 30 feet in the air. And more than a little balance is required as you move over hanging wooden blocks and surf the "Flying Kayak"!
#3 – Float
There's only one home of the famous pink tubes, and there's no better way to experience the Toccoa River than along this scenic 6-mile stretch. Ray, Gina and the tube crew will set you up with everything you need — from super-tough tubes (with bottoms) to shuttle service, changing rooms and clean restrooms! Ask about kayak and raft rentals, too.
#4 – (Mini) Golf
Get your putt-putt on with three distinct mini golf experiences. 2nd Story Entertainment's unique indoor mini golf concept features a variety of themes throughout nine rooms. Lilly Pad Village offers a shaded mountain course where you'll be surrounded by sounds of birds and frogs. Open late, Cohutta Cove Mini Golf features a classic layout with three chances to win a FREE game!
#5 – Race
If it's Saturday night in the South, it must be race night! This local 1/3-mile dirt track is home to sprint cars, mini stocks, monster trucks and more. Gates open at 5 p.m., hot laps are at 6:30 p.m. and racing starts at 7:00 p.m. All racing events are usually completed by 10:30 p.m. The food's as hot as the racing, so come hungry! And remember to bring seat cushions and ear protection,
if needed.
Where to Find These Summer Activities
<iframe style="border:4px solid #31347A" src="https://www.google.com/maps/d/embed?mid=1ta4GvBb1wlsm1Okk596KI_-VcavjTR3z" width="100%" height="800"></iframe>